"We are a group of colleagues
who create a company that is indispensable to this world.
Let us combine our strengths
in taking on the challenge of unlimited advancement. "
At Takamisawa Cybernetics Co., Ltd., we continuously engage in quality-related activities grounded in the above basic principles in order to improve customer satisfaction and carry out our responsibilities to society.

Created: October 1, 2005
Revised: April 3, 2017
Takamisawa Cybernetics Co., Ltd.
Director and QA Headquarters Chief Osamu Iwaoka
Regarding international standard "ISO9001" certification: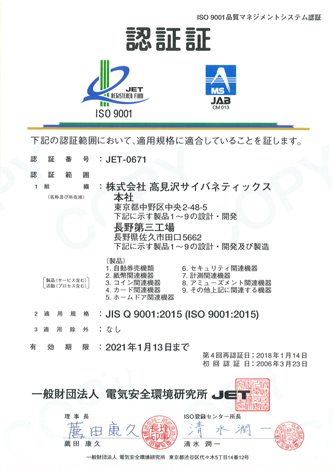 Our quality-related activities at our Head Office, our Nagano factories No.1 and No.3 were certified for "ISO9001," an international standard for quality management, on March 23, 2006.
Registration agency

Japan Electrical Safety and Environment Technology Laboratories (JET)

Registration No.

JET-0671

Date of registration

March 23, 2006

Registrant

Takamisawa Cybernetics Co., Ltd.

Office involved

Head Office
2-48-5 Chuo, Nakano-ku, Tokyo
Nagano 3rd Factory
5662 Taguchi, Saku City, Nagano Prefecture

Registered standard

ISO 9001: 2015
(JIS Q 9001: 2015)

Range of application

Design, development, and manufacture of products 1 – 9 below
1. Ticket vending machines
2. Banknote handling devices
3. Coin handling devices
4. Card handling devices
5. Platform door devices
6. Security devices
7. Measurement devices
8. Amusement devices
9. Devices ancillary to the above devices

Exemptions from application

None
System organization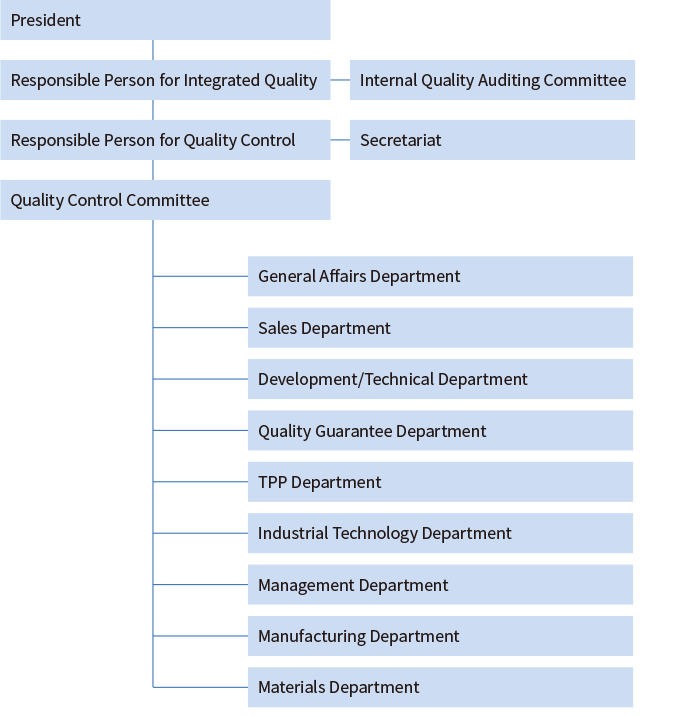 Various initiatives
Promotion of TQM activities
Improvement in quality of all business operations, and not just manufacturing, contributes to elevated customer satisfaction. At Takamisawa Cybernetics Co., Ltd., we are promoting TQM activities as one means of improving customer satisfaction.
Every year, each department is compelled to propose quality improvement goals at a TQM Promotion Conference. Executives approve these as "department Policies," and TQM activities are conducted with all employees participating. Through these activities, the construction and execution of a QMS grounded in the eight principles of QM ("valuing the customer," "leadership," "participation by people," "process approach," "systemic approach to management," "continuous improvement," "fact-based approach to decision-making," and "mutually beneficial relations with suppliers") as well as continuous improvements to its effectiveness are promoted.
Our quality management system
Demonstrate the ability to consistently supply products that meet customer requirements and applicable regulatory requirements.
Facilitate improvement of customer satisfaction through continuous improvement and effective application of the system that includes processes for preventing unsuitability.

MSQ activities conducted with the Service Department
Maintenance for most of our products is supervised by Takamisawa Service Corporation, one of our group companies.
We periodically hold quality conference called the "MSQ Committee" as a venue for exchange of information between the Service department of Takamisawa Service Corporation, our company's Quality Guarantee Department, and the Technology SE department that is attended by those in charge of said departments. The opinions of the Service department, who are familiar with the working statuses of the products, are shared with the departments in charge of our company's manufacturing. This is put to use to further improve product quality.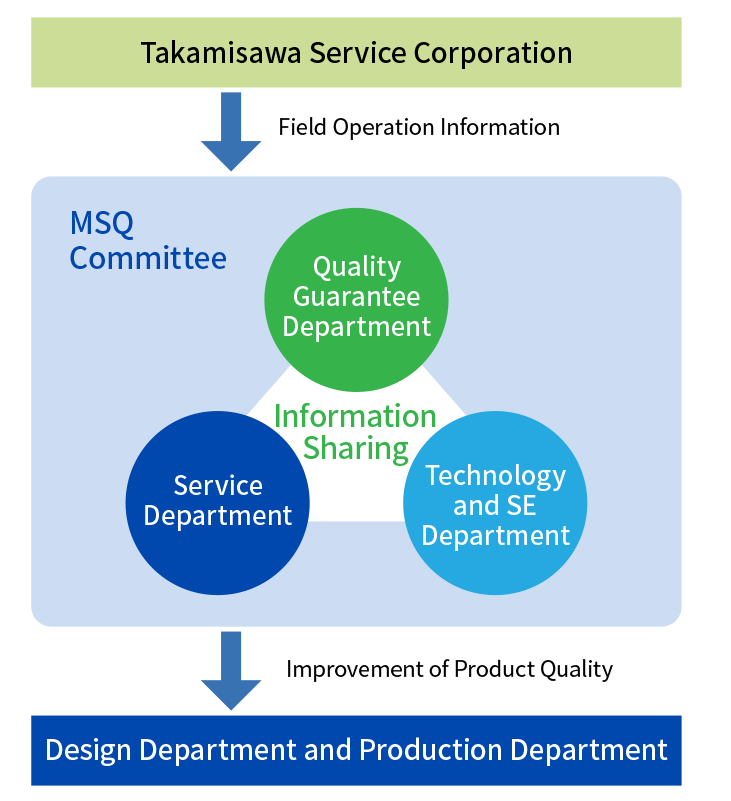 Manufacturing reform
At Takamisawa Cybernetics Co., Ltd. we have been promoting "Manufacturing Reform" as a companywide initiative centered on our Production Department and Manufacturing Department since FY 2004.
The Production Department conducts detailed reviews of work processes at product manufacturing sites and eliminates superfluous work to the greatest extent possible. At the same time, it has created a system for manufacturing that combines standardization of work and maintaining stable production volumes with the ability to flexibly respond to customer requirements.
The Technology Department, which is in charge of product design and development, is promoting a design reform project called "S.I.F.T" as one aspect of manufacturing reform. The division has reconstructed a system for high quality design and development under tight deadlines, maximized added value, and reformed our operations to refashion our company into a corporation that has a competitive advantage over others.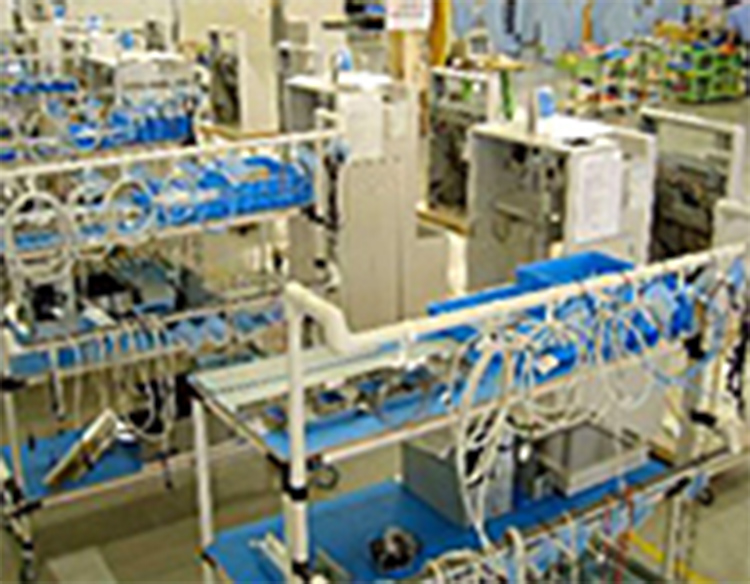 Pages concerning our responsibilities to customers