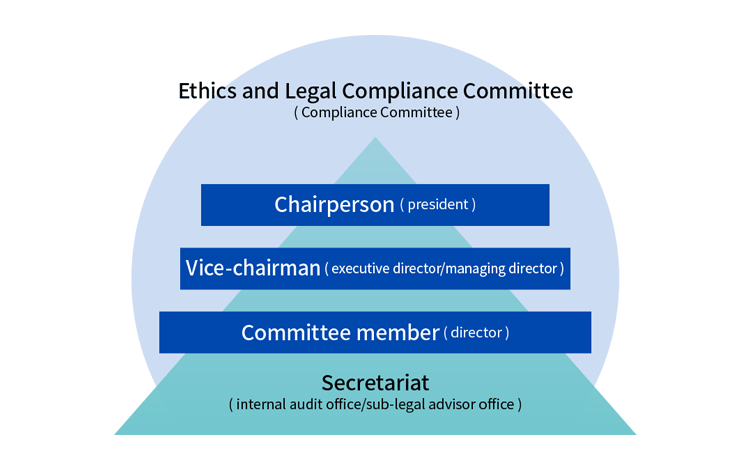 We have drawn up compliance regulations to maintain sound corporate activities by establishing methods of appropriate reporting with respect to organizational and individual violations of the law. These regulations unify our compliance system to prevent scandals from happening ahead of time, and also formed a Compliance Committee in the event any such violations might be committed.

In addition, we have created a code of conduct for all executives and employees founded on common moral criteria, societal norms, values and ethics in order to faithfully act in accordance with our company's policy of being "an essential company to society" that upholds ethical and moralistic compliance based on common awareness.
Takamisawa Cybernetics Employee Code of Conduct
1. Respect for human rights and the prohibition of discrimination and sexual harassment
You must respect human rights, and not discriminate by gender, age, creed, illness, nor harass any individual, including sexual harassment.

2. Privacy protection
You must respect individual privacy and not unduly infringe the privacy rights of others.

3. Prohibition of insider trading
You must not buy or sell stocks, which might be suspected of being insider trading.

4. Compliance with various business laws
You must comply with various business laws to properly conduct business activities.

5. Protection and respect for intellectual property rights
You must recognize that intellectual property rights is the core of business activities, endeavor to protect our rights and abstain from infringing on any rights owned by other companies.

6. Prohibition of unfair competition
You must not engage in unfair competition such as the manufacture and sale of fraudulent products, or the illegal acquisition or use of trade secrets.

7. Strict management of credit and credit limit
You must strictly manage the credit and credit management of our partners so as not to impair the results of business activities.

8. Proper management of information
You must strictly and meticulously manage our confidential information and never disclose this to others without valid reason.

9. Proper use of company information systems
You must not misuse our information systems or cause harm to the company.

10. Prohibition of bribery, gifts and entertainment
You must not seek to profit unlawfully such as giving bribes.
In addition, gifts and entertaining clients for business reasons must not exceed socially accepted limits.

11. Prohibition of conflicts of interest
Dutifully commit to your work and in earnest and do not act in any way that violates company interests.

12. Prohibition of granting profits to anti-social forces
You must approach anti-social forces with a resolute attitude, and never be associated with them, and should issues arise the company must act as a whole to repel them.
Code of conduct above is distributed among employees as a card that can be carried to raise common knowledge and awareness.